WHAT HAPPENED TO THE FEATHER?
NOTE: Previously the huge black feather, estimated to have been almost as large of that of the twenty-five foot wingspan Teratorn Argentavis Magnificens, with a feather measurement of 1.5 meters in length (that is, 60 inches...FIVE FEET long) and 20 centimeters wide (8 inches), was reported to have been burned on the crater floor in a certain ritual. In so saying, many, many people have contacted me saying such things similar to the following:

Aargghhh! How could you have burned that large black feather! I understand spirtuality and appreciate symbolism, but what you burned was knowledge, not just a feather!

Be as it may, the feather was NOT destroyed by my hand nor to my knowledge, by the hands of others, and the page now reflects more closely it's eventual outcome. I was unable to bring myself to actually fulfill my Uncle's request, neither then, nor as he asked, for others to do so upon my death.
There is more to the feather story than meets the eye, some of which deals with Karma, things Shaman, the supernormal perceptual states of Siddhis, and some bordering on the occult, none of which, except possibly the non-dual nature of that which is, is that which is Zen. The constant strains of nature to return all things to a balance builds heavily against any who may fight against the natural flow and, as related above, the feather was placed in the winds to find it's own return to the mix.
For one thing, the feather incident played a huge and significant role for having been the focal node of what could be called nothing else but a time loop, with the coming and going of time tethered to my being at the crater at the exact said time as so desired by my uncle. Although I didn't unfold the task as he wanted, the time loop of events that overtook the whole of incident unfolded the same. See: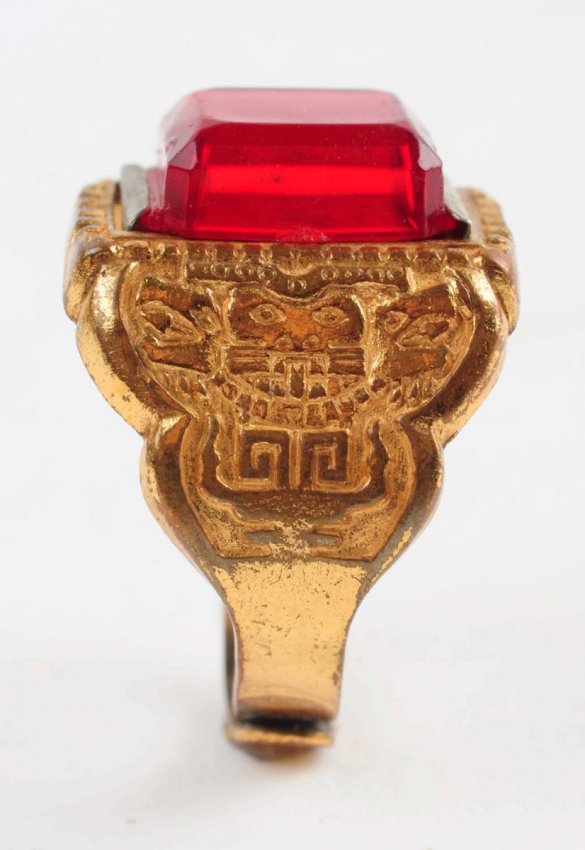 THE MYSTIC AZTEC SUN GOD
(please click image)
A couple of quick comments regarding the feather prior to moving on. When it was first given to me, even though it was of a huge size, I, as a young ten-year old boy with a vivid imagination, did not fully grasp the ramifications of it all. For me at the time, it did not seem impossible that a bird could not be of any size, so a feather as long as I was tall did not seem at all that improbable. It was only into high school and beyond that it came to me that I had been in the presence of something truly remarkable. I never saw the bird the feather came from, nor have I ever seen a second or other feathers of such large size, but for a bird to have required such an enormous feather in the first place, it would have to had been truly a giant creature. For the shaman to have imparted something so rare, meaningful, and valuable to me, a mere ten year old boy with then no history or background, speaks volumes. For an interesting take on all of the above, that is, giant feathers, giant birds, et al, see Talon and Scratch Marks from the Giant Bird.

As for the reference to Leonardo Da Vinci and a kite of his design, used in metaphor as well as in reality, I offer the following:
In the Codex Atlanticus Da Vinci makes notes on the flight of birds - in particular the kite, a small hawk-like European bird - accompanied by a number of sketches and drawings. In the midst of these notes he makes the following comment:

"This writing distinctly about the kite seems to be my destiny, because among the first recollections of my infancy, it seemed to me that, as I was in my cradle, a kite came to me and opened my mouth with it's tail, and struck me several times with it's tail inside my lips." (source)

"Two-mule Canyon"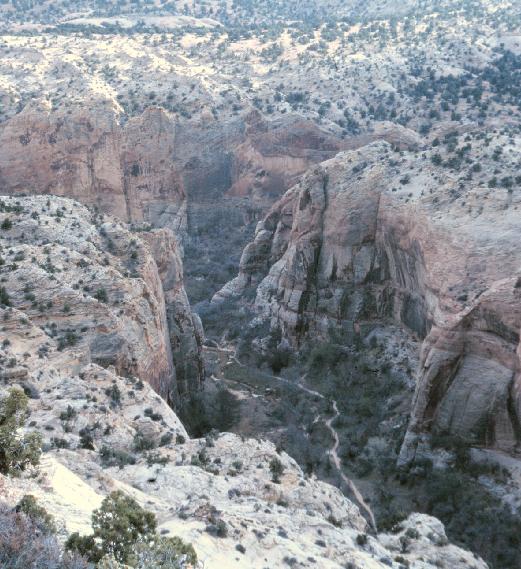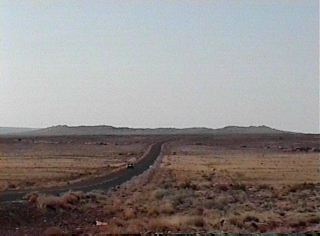 Groundlevel view of the impact site from
approximately five miles north of crater.
Click HERE for larger view.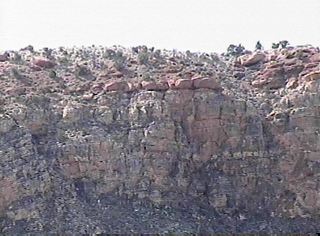 Raised strata along inside of crater rim.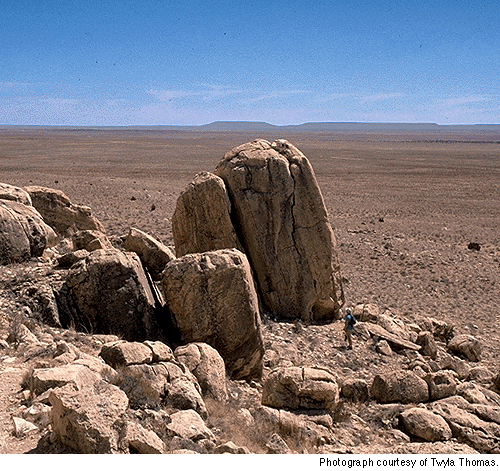 Thirty-foot high boulder thrown onto the
outside edge of crater rim. Notice hiker
among rocks on lower right. Click HERE
for larger image; HERE for more views.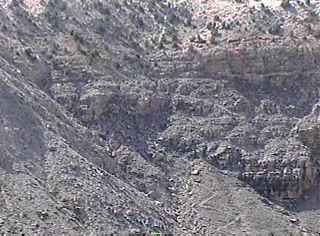 Foot trail along crater wall to floor of the
impact site. Used as access route to the
feather rite, described in the text above.

Trespassing on the crater floor -- no, no!
Click pic for additional crater floor shots.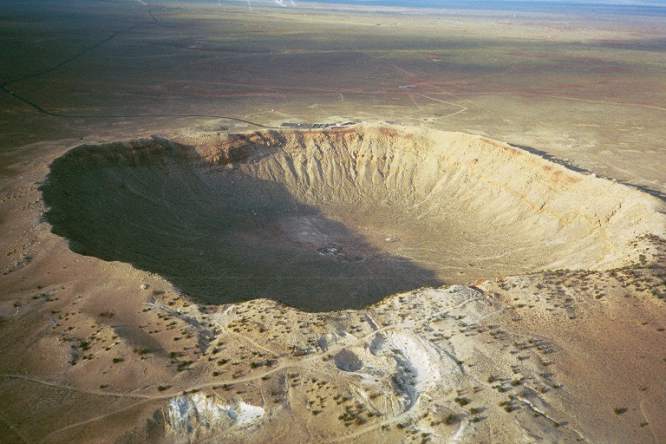 CRATER FROM THE SOUTHWEST. CLICK IMAGE FOR PANORAMIC VIEW. CLICK HERE FOR SECOND VERSION.
Meteor Crater Ejecta Spray Pattern
The meteor would have come in over the SW
(lower left), blowing material, in red, to the NE.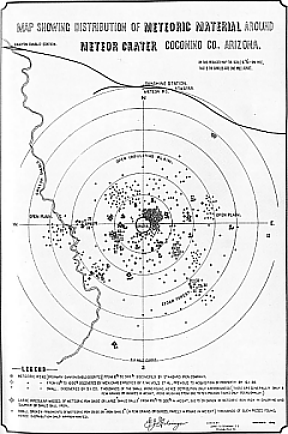 North-South East-West orientation of crater.
Notice ejecta concentration along NE edge.
Pit houses located opposite on SW slopes.
MAN RESCUED FROM METEOR CRATER FLOOR MINESHAFT
IN THE DEAD OF WINTER AND MIDDLE OF THE NIGHT, UNDER ZERO DEGREE
TEMPERATURES, A MAN ILLEGALLY CLIMBS TO THE CRATER FLOOR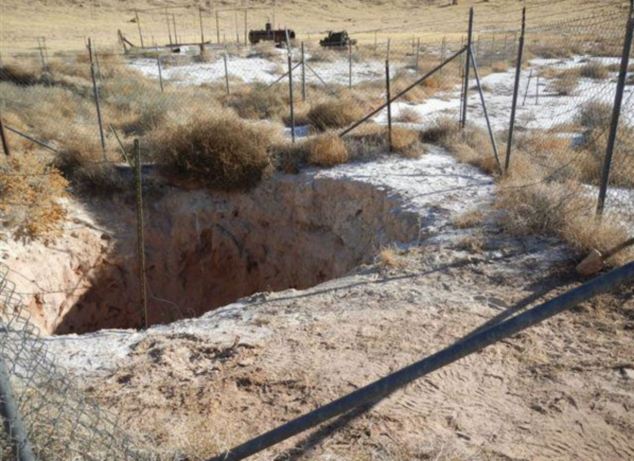 SEE ALSO:

THE SPIRITUAL ELDER AND THE SANTA FE CHIEF