"When it's time to get dressed, put on your clothes. When you must walk, then walk. When you must sit, then sit. Just be your ordinary self in ordinary life, unconcerned in seeking for Buddhahood. When you're tired, lie down. The fool will laugh at you but the wise man will understand."
Even though Lin-chi is infamous in Zen circles for his abrupt approach and harsh style he also gave lengthy discourses. Primary among his teachings is his notion of "the true man.":
"The Master took the high seat in the Hall. He said: 'on your lump of red flesh is a true man without rank who is always going in and out of the face of every one of you. Those who have not yet proved him, look, look!"
Lin-chi makes a distinction here between the body, that is, the so-called "lump of flesh" and the true agent that makes use of it. In another discourse, it is recorded:
"The Master said: Look at the wooden puppets performing on the stage! Their jumps and jerks all depend on the man behind."
This is the classical dichotomy between Self and vehicle, spiritual agent and mechanism. Lin Chi's statement seems more Hindu than Buddhist, as Hindu doctrine posits a Higher Self-principle (see: Baba Faqir Chand) as being the agent who uses the physical body. It is interesting that Lin Chi made use of this notion. The following statement clarifies the issue:
"This physical body of yours, composed of the four great elements, can neither expound the Dharma [Buddhist teaching] nor listen to it... Then just what can expound the Dharma and listen to it? This very you standing distinctly before me without any form, shining alone -- this can expound the Dharma and listen to it! Understand it this way, and you are not different from the Patriarch Buddha."
Lin-chi is really saying that the essential Buddha is none other than the One who controls the physical body. This "true man without rank" has no form and is definitely not a fixed thing. The "true man" is intrinsically free from the basic qualities of material and mental phenomena. The One who sits upon this lump of red flesh is free of impermanence, suffering, and insubstantiality -- what Buddhists call "the three marks" of conditioned phenomena. True nature is intrinsically free, now and forever.
Yet, this is also the "very you" whom Lin-chi states "stands distinctly" before him. The teaching here is really not too different from the Hindu conception. The same discourse explains:
"Followers of the Way, mind is without form and pervades the ten directions… Fundamentally, it is one pure radiance; divided it becomes the six harmoniously united spheres of sense [the five physical senses, plus intellect]. Since the mind is non-existent, wherever you are, you are emancipated."
The teaching of Lin Chi are not concerned with ideas of Buddha or God, but with the Reality of the human being. A true human being should not search for what he can get out of Life, but for what Life is in itself. A true human being sees things as they are, is free from wrong ideas about reality and acts in harmony with the universe at all times.
When Master Li Chi was alive, his methods of teaching were considered eccentric and out of ordinary. However, when he was passing into Nirvana, he composed this profound stanza to reveal his final teaching:
Can't stop the thoughts arising and disappearing in your mind,

True awareness shining boundlessly, you must focus on the one that doesn't move.

To realize there are neither forms nor names, nothing to pursue,

Sword of Wisdom has been used, must hurry to hone it.
SRI RAMANA MAHARSHI: THE LAST AMERICAN DARSHAN
RECOUNTING A YOUNG BOY'S NEARLY INSTANT TRANSFORMATION INTO THE ABSOLUTE DURING HIS ONLY DARSHAN WITH THE MAHARSHI
BUDDHISM IN AMERICA BEFORE COLUMBUS
HUI SHEN: BHIKSHU
Fundamentally, our experience as experienced is not different from the Zen master's. Where
we differ is that we place a fog, a particular kind of conceptual overlay onto that experience
and then make an emotional investment in that overlay, taking it to be "real" in and of itself.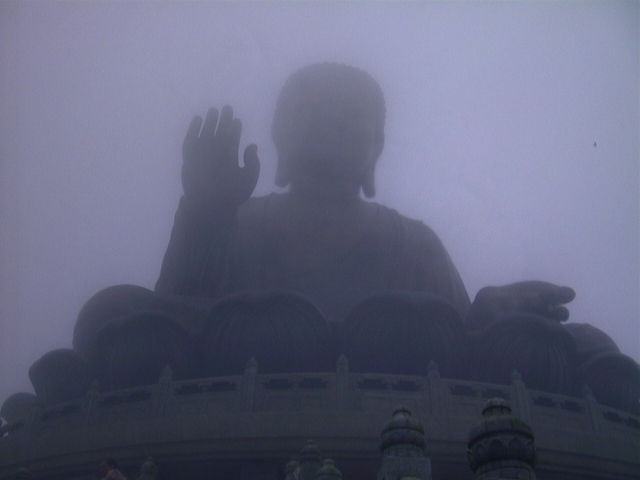 (PLEASE CLICK)