The Third Flight
But this flying machine he imagined was like no other device he had ever sketched or built. He had reached beyond nature to conceive a child's kite with flat surfaces to support it in the still air. It would have double wings, cellular open-ended boxes that would be as stable as kites of like construction.
Stable...and safe.
The pilot would not need to shift his balance to keep control. He would float on the air like a raft. Tista would not have lost his balance and fallen out of the sky in this contraption.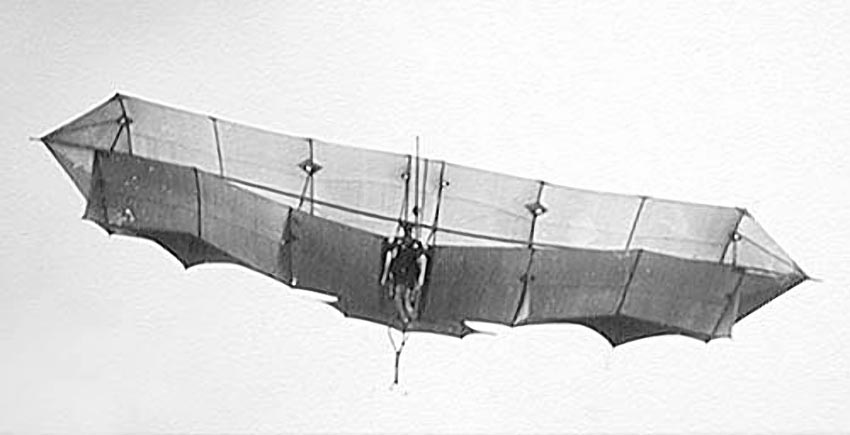 A LATER 19 th CENTURY FLYING MACHINE,- A VIRTUAL
COPY OF A FLORENCE DA VINCI GLIDER. CLICK IMAGE
TO SEE PILOT IN LOWER WING CENTER "FLOATING ON
THE AIR LIKE A RAFT"
"Tell Lorenzo that I'll have a soaring machine ready to impress the archbishop when he arrives," Leonardo said. "But he's not due for a fortnight."
"You've taken too long already." Sandro Botticelli stood in Leonardo's new studio, which was small and in disarray; although the roof had been repaired, Leonardo did not want to waste time moving back into his old room. Sandro was dressed as a dandy, in red and green, with dags and a peaked cap pulled over his thick brown hair. It was a festival day, and the Medici and their retinue would take to the streets for the Palio, the great annual horse race. "Lorenzo sent me to drag you to the Palio, if need be."
"If Andrea had allowed Francesco to help me—or at least lent me a few apprentices—I would have it finished by now."
"That's not the point."
"That's exactly the point."
"Get out of your smock; you must have something that's not covered with paint and dirt."
"Come, I'll show you what I've done," Leonardo said. "I've put up canvass outside to work on my soaring machine. It's like nothing you've ever seen, I promise you that. I'll call Niccolo, he'll be happy to see you."
"You can show it to me on our way, Leonardo. Now get dressed. Niccolo has left long ago."
"What?"
"Have you lost touch with everyone and everything?" Sandro asked. "Niccolo is at the Palio with Andrea...who is with Lorenzo. Only you remain behind."
"But Niccolo was just here."
Sandro shook his head. "He's been there for most of the day. He said he begged you to accompany him."
"Did he tell that to Lorenzo, too?"
"I think you can trust your young apprentice to be discreet."
Dizzy with fatigue, Leonardo sat down by a table covered with books and models of kites and various incarnations of his soaring machine. "Yes, of course, you're right, Little Bottle."
"You look like you've been on a binge. You've got to start taking care of yourself, you've got to start sleeping and eating properly. If you don't, you'll lose everything, including Lorenzo's love and attention. You can't treat him as you do the rest of your friends. I thought you wanted to be his master of engineers."
"What else has Niccolo been telling you?"
Sandro shook his head in a gesture of exasperation, and said, "Change your clothes, dear friend. We haven't more than an hour before the race begins."
"I'm not going," Leonardo said, his voice flat. "Lorenzo will have to wait until my soaring machine is ready."
"He will not wait."
"He has no choice."
"He has your Great Bird, Leonardo."
"Then Lorenzo can fly it. Perhaps he will suffer the same fate as Tista. Better yet, he should order Andrea to fly it. After all, Andrea had it built it for him."
"Leonardo...."
"It killed Tista.... It's not safe."
"I'll tell Lorenzo you're ill," Sandro said.
"Send Niccolo back to me. I forbid him to—"
But Sandro had already left the studio, closing the large inlaid door behind him.
Exhausted, Leonardo leaned upon the table and imagined that he had followed Sandro to the door, down the stairs, and outside. There he surveyed his canvass- covered makeshift workshop. The air was hot and stale in the enclosed space. It would take weeks working alone to complete the new soaring machine. Niccolo should be here. Then Leonardo began working at the cordage to tighten the supporting wing surfaces. This machine will be safe, he thought; and he worked, even in the dark exhaustion of his dreams, for he had lost the ability to rest.
Indeed he was lost.
In the distance he could hear Tista. Could hear the boy's triumphant cry before he fell and snapped his spine. And he heard thunder. Was it the shouting of the crowd as he, Leonardo, fell from the mountain near Vinci? Was it the crowd cheering the Palio riders racing through the city? Or was it the sound of his own dream-choked breathing?
"Leonardo, they're going to fly your machine."
"What?" Leonardo asked, surfacing from deep sleep; his head ached and his limbs felt weak and light, as if he had been carrying heavy weights.
Francesco stood over him, and Leonardo could smell the man's sweat and the faint odor of garlic. "One of my boys came back to tell me...as if I'd be rushing into crowds of cutpurses to see some child die in your flying contraption." He took a breath, catching himself. "I'm sorry, Maestro. Don't take offense, but you know what I think of your machines."
"Lorenzo is going to demonstrate my Great Bird now?"
Francesco shrugged. "After his brother won the Palio, Il Magnifico announced to the crowds that an angel would fly above them and drop Hell's own fire from the sky. And my apprentice tells me that inquisitore are all over the streets and are keeping everyone away from the gardens near Santi Apostoli."
That would certainly send a message to the Pope; the church of Santi Apostoli was under the protection of the powerful Pazzi family, who were allies of Pope Sixtus and enemies of the Medici.
"When is this supposed to happen?" Leonardo asked the foreman as he hurriedly put on a new shirt; a doublet; and calze hose, which were little more than pieces of leather to protect his feet.
Francesco shrugged. "I came to tell you as soon as I heard."
"And did you hear who is to fly my machine?"
"I've told you all I know, Maestro." Then after a pause, he said, "But I fear for Niccolo. I fear he has told Il Magnifico that he knows how to fly your inventions."
Leonardo prayed he could find Niccolo before he came to harm. He too feared that the boy had betrayed him, had insinuated himself into Lorenzo's confidence, and was at this moment soaring over Florence in the Great Bird. Soaring over the Duomo, the Baptistry, and the Piazza della Signoria, which rose from the streets like minarets around a heavenly dome .
But the air currents over Florence were too dangerous. He would fall like Tista, for what was the city but a mass of jagged peaks and precipitous cliffs.
"Thank you, Francesco," Leonardo said, and, losing no time, he made his way through the crowds toward the church of Santi Apostoli. A myriad of smells delicious and noxious permeated the air: roasting meats, honeysuckle, the odor of candle wax heavy as if with childhood memories, offal and piss, cattle and horses, the tang of wine and cider, and everywhere sweat and the sour ripe scent of perfumes applied to unclean bodies. The shouting and laughter and stepping-rushing-soughing of the crowds were deafening, as if a human tidal wave was making itself felt across the city. The whores were out in full regalia, having left their district which lay between Santa Giovanni and Santa Maria Maggiore; they worked their way through the crowds, as did the cutpurses and pickpockets, the children of Firenze's streets. Beggars grasped onto visiting country villeins and minor guildesmen for a denari and saluted when the red carroccios with their long scarlet banners and red, dressed horses passed. Merchants and bankers and wealthy guildesmen rode on great horses or were comfortable in their carriages, while their servants walked ahead to clear the way for them with threats and brutal proddings.
The frantic, noisy streets mirrored Leonardo's frenetic inner state, for he feared for Niccolo; and he walked quickly, his hand openly resting on the hilt of his razor-sharp dagger to deter thieves and those who would slice open the belly of a passer-by for amusement.
He kept looking for likely places from which his Great Bird might be launched: the dome of the Duomo, high brick towers, the roof of the Baptistry...and he looked up at the darkening sky, looking for his Great Bird as he pushed his way through the crowds to the gardens near the Santi Apostoli, which was near the Ponte Vecchio. In these last few moments, Leonardo became hopeful. Perhaps there was a chance to stop Niccolo...if, indeed, Niccolo was to fly the Great Bird for Lorenzo.
Blocking entry to the gardens were both Medici and Pazzi supporters, two armies, dangerous and armed, facing each other. Lances and swords flashed in the dusty twilight. Leonardo could see the patriarch of the Pazzi family, the shrewd and haughty Jacopo de' Pazzi, an old, full-bodied man sitting erect on a huge, richly carapaced charger, His sons Giovanni, Francesco, and Guglielmo were beside him, surrounded by their troops dressed in the Pazzi colors of blue and gold. And there, to Leonardo's surprise and frustration, was his great Eminence the Archbishop, protected by the scions of the Pazzi family and their liveried guards. So this was why Lorenzo had made his proclamation that he would conjure an angel of death and fire to demonstrate the power of the Medici...and Florence. It was as if the Pope himself were here to watch.
Beside the Archbishop, in dangerous proximity to the Pazzi, Lorenzo and Giuliano sat atop their horses. Giuliano, the winner of the Palio, the ever handsome hero, was wrapped entirely in silver, his silk stomacher embroidered with pearls and silver, a giant ruby in his cap; while his brother Lorenzo, perhaps not handsome but certainly an overwhelming presence, wore light armor over simple clothes. But Lorenzo carried his shield, which contained "Il Libro," the huge Medici diamond reputed to be worth 2,500 ducats.
Leonardo could see Sandro behind Giuliano, and he shouted his name; but Leonardo's voice was lost in the din of twenty thousand other voices. He looked for Niccolo, but he could not see him with Sandro or the Medici. He pushed his way forward, but he had to pass through an army of the feared Medici-supported Companions of the Night, the darkly-dressed Dominican friars who held the informal but hated title of inquisitore. And they were backed up by Medici sympathizers sumptuously outfitted by Lorenzo in armor and livery of red velvet and gold.
Finally, one of the guards recognized him, and he escorted Leonardo through the sweaty, nervous troops toward Lorenzo and his entourage by the edge of the garden.
But Leonardo was not to reach them.
The air seemed heavy and fouled, as if the crowd's perspiration was rising like heat, distorting shape and perspective. Then the crowds became quiet, as Lorenzo addressed them and pointed to the sky.
Everyone looked heavenward.
And like some gauzy fantastical winged creature that Dante might have contemplated for his Paradisio, the Great Bird soared over Florence, circling high above the church and gardens, riding the updrafts and the currents that swirled invisibly above the towers and domes and spires of the city. Leonardo caught his breath, for the pilot certainly looked like Niccolo; surely a boy rather than a full-bodied man. He looked like an awkward angel with translucent gauze wings held in place with struts of wood and cords of twine. Indeed, the glider was as white as heaven, and Niccolo—if it was Niccolo—was dressed in a sheer white robe.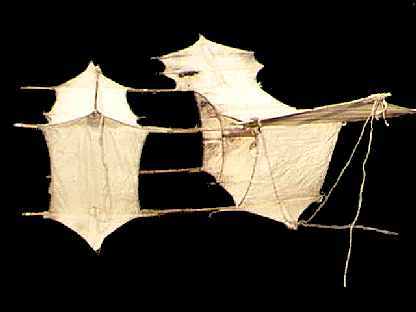 A Man-lifting Cody, similar to a late model Da Vinci design.
The boy sailed over the Pazzi troops like a bird swooping above a chimney, and seasoned soldiers fell to the ground in fright, or awe, and prayed; only Jacopo Pazzi, his sons, and the Archbishop remained steady on their horses. As did, of course, Lorenzo and his retinue.
And Leonardo could hear a kind of buzzing, as if he were in the midst of an army of cicadas, as twenty thousand citizens prayed to the soaring angel for their lives as they clutched and clicked black rosaries.
The heavens had opened to give them a sign, just as they had for the Hebrews at Sinai.
The boy made a tight circle around the gardens and dropped a single fragile shell that exploded on impact, throwing off great streams of fire and shards of shrapnel that cut down and burned trees and grass and shrub. Then he dropped another, which was off mark, and dangerously close to Lorenzo's entourage. A group of people were cut down by the shrapnel, and lay choking and bleeding in the streets. Fire danced across the piazza. Horses stampeded. Soldiers and citizens alike ran in panic. The Medici and Pazzi distanced themselves from the garden, their frightened troops closing around them like Roman phalanxes. Leonardo would certainly not be able to get close to the First Citizen now. He shouted at Niccolo in anger and frustration, for surely these people would die; and Leonardo would be their murderer. He had just killed them with his dreams and drawings. Here was truth. Here was revelation. He had murdered these unfortunate strangers as surely as he had killed Tista. It was as if his invention now had a life of its own, independent of its creator.
As the terrified mob raged around him, Leonardo found refuge in an alcove between two buildings and watched his Great Bird soar in great circles over the city. The sun was setting, and the high, thin cirrus clouds were stained deep red and purple. Leonardo prayed that Niccolo would have sense enough to fly westward, away from the city, where he could hope to land safely on open ground; but the boy was showing off and underestimated the capriciousness of the winds. He suddenly fell, as if dropped, toward the brick and stone below him. He shifted weight and swung his hips, trying desperately to recover. An updraft picked him up like a dust devil, and he soared skyward on heavenly breaths of warm air.
God's grace.
He seemed to be more cautious now, for he flew toward safer grounds to the west...but then he suddenly descended, falling, dropping behind the backshadowed buildings; and Leonardo could well imagine that the warm updraft that had lifted Niccolo had popped like a water bubble.
So did the boy fall through cool air, probably to his death.
Leonardo waited a beat, watching and waiting for the Great Bird to reappear. His heart was itself like a bird beating violently in his throat. Niccolo.... Prayers of supplication formed in his mind, as if of their own volition, as if Leonardo's thoughts were not his own, but belonged to some peasant from Vinci grasping at a rosary for truth and hope and redemption.
Those crowded around Leonardo could not guess that the angel had fallen...just that he had descended from the Empyrean heights to the man-made spires of Florence where the sun was blazing rainbows as it set; and Lorenzo emerged triumphantly. He stood alone on a porch so he could be seen by all and distracted the crowds with a haranguing speech that was certainly directed to the Archbishop.
Florence is invincible.
The greatest and most perfect city in the world.
Florence would conquer all its enemies.
As Lorenzo spoke, Leonardo saw, as if in a lucid dream, dark skies filled with his flying machines. He saw his hempen bombs falling through the air, setting the world below on fire. Indeed, with these machines Lorenzo could conquer the Papal States and Rome itself; could burn the Pope out of the Vatican and become more powerful than any of the Caesars.
An instant later Leonardo was running, navigating the maze of alleys and streets to reach Niccolo. Niccolo was all that mattered. If the boy was dead, certainly Lorenzo would not care. But Sandro...surely Sandro....
There was no time to worry about Sandro's loyalties.
The crowds thinned, and only once was Leonardo waylaid by street arabs who blocked his way. But when they saw that Leonardo was armed and wild and ready to draw blood, they let him pass; and he ran, blade in hand, as if he were being chased by wild beasts.
Empty streets, empty buildings, the distant thunder of the crowds constant as the roaring of the sea. All of Florence was behind Leonardo, who searched for Niccolo in what might have been ancient ruins but for the myriad telltale signs that life still flowed all about here, and soon would again. Alleyways became shadows, and there was a blue tinge to the air. Soon it would be dark. A few windows already glowed tallow yellow in the balconied apartments above him.
He would not easily find Niccolo here. The boy could have fallen anywhere; and in grief and desperation, Leonardo shouted his name. His voice echoed against the high building walls; someone answered in falsetto voce, followed by laughter. But then Leonardo heard horses galloping through the streets, heard men's voices calling to each other. Lorenzo's men? Pazzi? There was a shout, and Leonardo knew they had found what they were looking for. Frantic, he hurried toward the soldiers, but what would he do when he found Niccolo wrapped in the wreckage of the Great Bird? Tell a dying boy that he, Leonardo, couldn't fly his own invention because he was afraid?
I was trying to make it safe, Niccolo.
He found Lorenzo's Companions of the Night in a piazza surrounded by tenements. They carried torches, and at least twenty of the well-armed priests were on horseback. Their horses were fitted out in black, as if both horses and riders had come directly from Hell; one of the horses pulled a cart covered with canvass.
Leonardo could see torn fustian and taffeta and part of the Great Bird's rudder section hanging over the red and blue striped awning of a balcony. And there, on the ground below was the upper wing assembly, intact. Other bits of cloth slid along the ground like foolscap.
Several inquisitore huddled over an unconscious figure.
Niccolo.
Beside himself with grief, Leonardo rushed headlong into the piazza; but before he could get halfway across the court, he was intercepted by a dozen Dominican soldiers. "I am Leonardo da Vinci," he shouted, but that seemed to mean nothing to them. These young Wolves of the Church were ready to hack him to pieces for the sheer pleasure of feeling the heft of their swords.
"Do not harm him," shouted a familiar voice.
Sandro Botticelli.
He was dressed in the thick, black garb of the inquisitore. "What are you doing here, Leonardo? You're a bit late." Anger and sarcasm was evident in his voice.
But Leonardo was concerned only with Niccolo, for two brawny inquisitore were lifting him into the cart. He pushed past Sandro and mindless of consequences pulled one of the soldiers out of the way to see the boy. Leonardo winced as he looked at the boy's smashed skull and bruised body—arms and legs broken, extended at wrong angles—and turned away in relief.
This was not Niccolo; he had never seen this boy before.
"Niccolo is with Lorenzo," Sandro said, standing beside Leonardo. "Lorenzo considered allowing Niccolo to fly your machine, for the boy knows almost as much about it as you."
"Has he flown the Great Bird?"
After a pause, Sandro said, "Yes...but against Lorenzo's wishes. That's probably what saved his life." Sandro gazed at the boy in the cart, who was now covered with the torn wings of the Great Bird, which, in turn, was covered with canvass. "When Lorenzo discovered what Niccolo had done, he would not allow him near any of your flying machines, except to help train this boy, Giorgio, who was in his service. A nice boy, may God take his soul."
"Then Niccolo is safe?" Leonardo asked.
"Yes, the holy fathers are watching over him."
"You mean these cutthroats?"
"Watch how you speak, Leonardo. Lorenzo kept Niccolo safe for you, out of love for you. And how have you repaid him...by being a traitor?"
"Don't ever say that to me, even in jest."
"I'm not jesting, Leonardo. You've failed Lorenzo...and your country, failed them out of fear. Even a child such as Niccolo could see that."
"Is that what you think?"
Sandro didn't reply.
"Is that what Niccolo told you?"
"Yes."
Leonardo would not argue, for the stab of truth unnerved him, even now. "And you, why are you here?"
"Because Lorenzo trusts me. As far as Florence and the Archbishop is concerned, the angel flew and caused fire to rain from Heaven. And is in Heaven now as we speak." He shrugged and nodded to the inquisitore, who mounted their horses.
"So now you command the Companions of the Night instead of the divine power of the painter," Leonardo said, the bitterness evident in his voice. "Perhaps we are on different sides now, Little Bottle."
"I'm on the side of Florence," Sandro said. "And against her enemies. You care only for your inventions."
"And my friends," Leonardo said quietly, pointedly.
"Perhaps for Niccolo, perhaps a little for me; but more for yourself."
"How many of my flying machines does Lorenzo have now?" Leonardo asked, but Sandro turned away from him and rode behind the cart that carried the corpse of the angel and the broken bits of the Great Bird. Once again, Leonardo felt the numbing, rubbery sensation of great fatigue, as if he had turned into an old man, as if all his work, now finished, had come to nothing. He wished only to be rid of it all: his inventions, his pain and guilt. He could not bear even to be in Florence, the place he loved above all others. There was no place for him now.
And his new soaring machine.
He knew what he would do.
Leonardo could be seen as a shadow moving inside his canvass-covered makeshift workshop, which was brightly lit by several water lamps and a small fire. Other shadows passed across the vellum-covered windows of the surrounding buildings like mirages in the Florentine night. Much of the city was dark, for few could afford tallow and oil.
But Leonardo's tented workshop was brighter than most, for he was methodically burning his notes and papers, his diagrams and sketches of his new soaring machine. After the notebooks were curling ash and smoke rising through a single vent in the canvass, he burned his box-shaped models of wood and cloth: kites and flying machines of various design; and then, at the last, he smashed his partially completed soaring machine...smashed the spars and rudder, smashed the box-like wings, tore away the webbing and fustian, which burned like hemp in the crackling fire.
As if Leonardo could burn his ideas from his thoughts.
Yet he could not help but feel that the rising smoke was the very stuff of his ideas and invention. And he was spreading them for all to inhale like poisonous phantasms.
Lorenzo already had Leonardo's flying machines.
More children would die....
He burned his drawings and paintings, his portraits and madonnas and varnished visions of fear, then left makeshift studio like a sleepwalker heading back to his bed; and the glue and fustian and broken spars ignited, glowing like coals, then burst, exploded, shot like fireworks or silent hempen bombs until the canvass was ablaze. Leonardo was far away by then and couldn't hear the shouts of Andrea and Francesco and the apprentices as they rushed to put out the fire.
Niccolo found Leonardo standing upon the same mountain where Tista had fallen to his death. His face and shirt streaked with soot and ash, Leonardo stared down into the misty valley below. There was the Palazzo Vecchio, and the dome of the Duomo reflecting the early morning sun...and beyond, created out of the white dressing of the mist itself, was his memory cathedral. Leonardo gazed at it...into it. He relived once again Tista's flight into death and saw the paintings he had burned; indeed, he looked into Hell, into the future where he glimpsed the dark skies filled with Lorenzo's soaring machines, raining death from the skies, the winged devices that Leonardo would no longer claim as his own. He wished he had never dreamed of the Great Bird. But now it was too late for anything but regret.
What was done could not be undone.
"Maestro!" Niccolo shouted, pulling Leonardo away from the cliff edge, as if he, Leonardo, had been about to launch himself without wings or harness into the fog. As perhaps he was.
"Everyone has been frantic with worry for you," Niccolo said, as if he was out of breath.
"I should not think I would have been missed."
Niccolo snorted, which reminded Leonardo that he was still a child, no matter how grown up he behaved and had come to look. "You nearly set Maestro Verrocchio's bottega on fire."
"Surely my lamps would extinguish themselves when out of oil, and the fire was properly vented. I myself—"
"Neighbors saved the bottega," Niccolo said, as if impatient to get on to other subjects. "They alerted everyone."
"Then there was no damage?" Leonardo asked.
"Just black marks on the walls."
"Good," Leonardo said, and he walked away from Niccolo, who followed after him. Ahead was a thick bank of mist the color of ash, a wall that might have been a sheer drop, but behind which in reality were fields and trees.
"I knew I would find you here," Niccolo said.
"And how did you know that, Nicco?"
The boy shrugged.
"You must go back to the bottega," Leonardo said.
"I'll go back with you, Maestro."
"I'm not going back." The morning mist was all around them; it seemed to be boiling up from the very ground. There would be rain today and heavy skies.
"Where are you going?"
Leonardo shrugged.
"But you've left everything behind." After a beat, Niccolo said, "I'm going with you."
"No, young ser."
"But what will I do?"
Leonardo smiled. "I would guess that you'll stay with Maestro Verrochio until Lorenzo invites you to be his guest. But you must promise me you'll never fly any of his machines."
Niccolo promised; of course, Leonardo knew that the boy would do as he wished. "I did not believe you were afraid, Maestro."
"Of course not, Nicco."
"I shall walk with you a little way."
"No."
Leonardo left Niccolo behind, as if he could leave the past for a new, innocent future. As if he had never invented bombs and machines that could fly. As if, but for his paintings, he had never existed at all.
Niccolo called to him...then his voice faded away, and was gone.
Soon the rain stopped and the fog lifted, and Leonardo looked up at the red tinged sky.
Perhaps in hope.
Perhaps in fear.